Frequently Asked Questions
Where can I create my account to start getting discounted rates?

You'll need to register as a buyer through Fashion Domino Website
How do I get charged for shipping labels created?

When creating a Fashion Domino buyer account, you'll have the opportunity to input your payment detail information.
What is needed to track my shipment?

You'll need a tracking number given to you by the shipping carrier.
Is consolidating my orders / shipments possible?

Consolidation will be available in the near future, as of right now, purchasing and printing labels are the only current method.
What shipping methods are available to me if I sign up?

Fedex is the only a shipping carrier we currently offer (no international shipping).
If I want to return a package, what are the proper steps to take?

All you'll need to do is mark the package as a return, and wait for confirmation from the seller to approve.
How can I print my shipping labels?

There are 2 options that you can take. If you, as the buyer, know the weight and dimensions, you can purchase the label and send it over to the seller. Otherwise, the seller will have to create the label themselves.
How do I find my account number?

You can contact Fashion Domino for any account information since your billing, shipping, and payment details will be tied to that specific account number.
How does the seller know what information to access to print my shipping label?

You, as the buyer, will give the seller your account number and email which ties into your account/payment details and information.
Is it possible to re-print my shipping labels?

All purchased shipping labels will be emailed to the seller, so contacting them will be the quickest way to re-print your label.
What steps should I take in order to make any changes to my labels (i.e voiding labels, re-directing shipments, etc)?

Contacting Fashion District Shipping at (424) 224-5959 would be the fastest and most efficient way to make any changes.
Fashion District Fedex Locations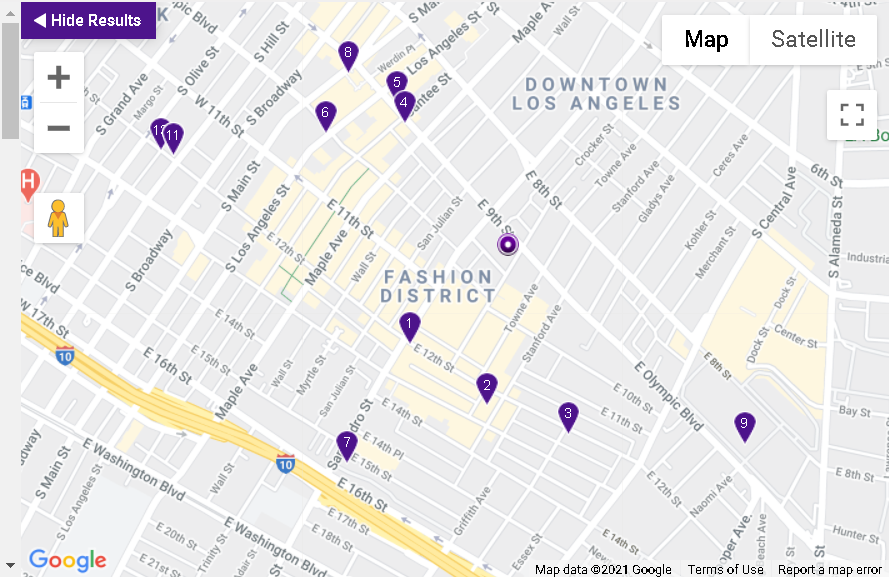 1147 S San Pedro St Los Angeles, CA 90015
La Fashion Mart - Outside 800 E 12th St Los Angeles, CA 90021
FedEx Authorized ShipCenter 967 E 12th St Los Angeles, CA 90021
FedEx Authorized ShipCenter 225 E 9th St Los Angeles, CA 90015
FedEx Drop Box Cooper Building - Inside 860 S Los Angeles St Los Angeles, CA 90014
FedEx Office Print & Ship Center 155 E Olympic Blvd C0160 Los Angeles, CA 90015
FedEx Drop Box La Face Mart - Inside 1458 S San Pedro St Los Angeles, CA 90015
FedEx Drop Box - Inside 117 W 9th St Los Angeles, CA 90015
FedEx Drop Box La Produce Market - Outside 1601 E Olympic Blvd Los Angeles, CA 90021
FedEx Drop Box - Inside 634 S Spring St Los Angeles, CA 90014
FedEx Drop Box - Inside FedEx Office 1149 S Hill St Los Angeles, CA 90015
FedEx Office Print & Ship Center 1149 S Hill St H150 Los Angeles, CA 90015